July 26, 2006
Chillin'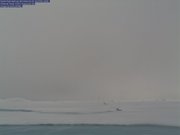 Here's a little something for you on this hot, muggy, late July day: the North Pole Cam.
Looks pretty good right about now.
Actually, I have to admit that this summer really hasn't turned out as bad as it could have been. Sure, it's been hot and nasty, but the temps here in Dee Cee have rarely gotten out of the low 90's and it's rained quite a bit. Not nearly as awful as it can be sometimes. (Of course, we've got about another five or six weeks to go and now I've probably gone and put a hex on the thing just by talking about it.)
Yips! to Lynn S.
Posted by Robert at July 26, 2006 04:17 PM | TrackBack