July 27, 2006
Seven Days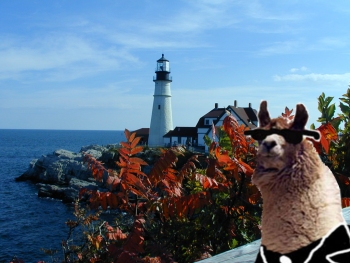 (Image filched from the Colossus)
Seven days to go until my vacation, that is, and man oh man do I need it this year. I won't bore you with all the details, but I simply can't remember the last time I was this utterly wiped.
So, a donde vas, Roberto? Well, as is usually the case, we'll be making our way up to Maine to visit the 'rents. The added bonus this year is that both my brother and sister and their families will be there as well. Lots of Geary's and lobstah, a visit or two to my favorite out of the way beach, perhaps a trip to the Children's Museum in Portland if the Llama-ettes behave themselves, and - most importantly - a whooooole lot of time just sitting on the porch, staring idly at the bay and doing absolutely nothing.
Few days of this and I feel I will get my strength back. And remember some of those little things, like how to smile or the fact that I'm married.
In the meantime, I feel like a pilot coming in for a landing skosh fuel. If nothing untoward happens, I'll just be able to ghost over the perimeter fence and put her down. Otherwise, Robbo prangs the kite. Keep your fingers crossed that it's going to be quiet for the next seven days.
Posted by Robert at July 27, 2006 08:34 AM | TrackBack