October 07, 2008
Gratuitous Nats Posting - "Hello, Darkness? Meet Candle!"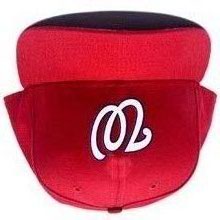 As I have already lamented here, the Nats of course had an extraordinarily awful season this year. So what is the bright side? That with all of the games we watched together, I think I can safely confirm now that the Eldest Llama-ette is becoming a gen-u-ine baseball fan.
Want proof? This weekend, utterly out of the Blue, the gel asked me, "Hey, Dad, who had more home runs this season, Chase Utley or Chipper Jones?"
When the gel moves from paying attention not just to her own team, but to the stats of players on other teams as well, I feel that we have definitely arrived. And as I often say, even if I screw up all other aspects of fatherhood, I count kindling in her a love for this best of games as a major achievement.
(BTW, if you are wondering, the answer is Utley. He had 33, while Jones had 22 and yes, I had to look it up.)
Posted by Robert at October 7, 2008 09:36 AM | TrackBack