July 09, 2008
Gratuitous "Dang, What A Shame" Movie Observation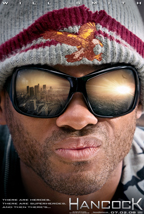 Ya know, I really really wanted Hancock to be a good movie. It's Will Smith and Jason Bateman, fer chrissakes! What's not to love?
Unfortunately, just about every single review I've read so far has panned the durn thing, some regretfully, some maliciously. I won't bother seeing it in a theatre now, although I still probably will toss it in the ol' Netflix queue in time.
Anybody out there seen it yet?
Posted by Robert at July 9, 2008 09:49 AM | TrackBack