July 09, 2008
Gratuitous French & Indian War Geekery Posting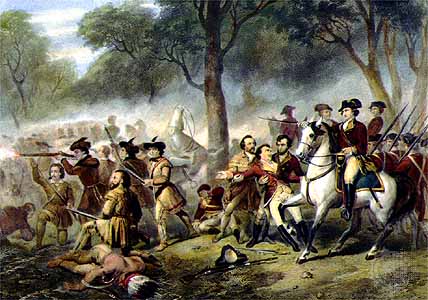 Today is the anniversary of the Battle of the Monongahela in 1755, in which a British column of about 1500 troops under the command of General Edward Braddock (assisted by, among others, a young Virginia Militia Colonel by the name of George Washington), was ambushed and mauled by a combination of about 600 Indians of various tribes and a smattering of Frenchmen under the command of M. Langlade, M. de Beaujeu and M. Dumas, as it made an attempt to take Fort Duquesne (later Pittsburgh).
The British force, marching as a compact body, stumbled into a great horseshoe-shaped ring of Indians who, firing from behind the trees, threw the Brits into panicked confusion. About two thirds of the British forces were killed or wounded, including Gen. Braddock, who was shot through the lungs. The story goes that when Braddock was buried during the hasty retreat, wagons were driven over the site in order to erase all traces of his grave and prevent the Indians from digging it up and claiming his scalp.
The result of the battle was an unmitigated disaster for the English colonies, as it sparked full-scale attacks on all the western parts of Virginia, Maryland and Pennsylvania. I forget where I read it, but I have a vivid recollection of one colonist's account of being able to look all around the western horizon and see columns of smoke rising up from devasted homesteads. I've always found that image to be extremely chilling.
Posted by Robert at July 9, 2008 09:01 AM | TrackBack