April 16, 2008
I'm Robbo the Llama And I May Be Going To Hell
The WaPo Blog had a brief article yesterday on how Dee Cee's Nationals Park is being readied for Benedict's celebration of Mass there tomorrow:
As explained by Archbishop of Washington Donald W. Wuerl yesterday afternoon, the pontiff will enter the park via right field, and, at 9:30 a.m., do a lap of the field in the popemobile.

Then he'll exit, change into vestments for the Mass and re-emerge.

This afternoon, workers were covering the field and starting to erect the stage, which is in the centerfield area. (In other words, if you ended up with tickets behind home plate, you're kind of far away from the action, unlike a Nats' game.)

Wuerl vows that everything will be ready.

Advertising (even the big stuff flanking the jumbotron) will be covered up and, no, of course they won't be selling beer on Thursday.

Those with the closest seats are the two sections flanking the stage. Stage right will be the choirs and stage left will be high school and college students. There are also about 5,000 seats on the field. (Warning: if you know you have a seat on the field, eat a huge breakfast. You won't have access to the snack bars and the little snack they're going to give you when you arrive won't go very far).

"When the Mass starts, I think we're going to recognize that we have been successful at taking this venue and making it a holy space--a sacred space," said a beaming Wuerl. He spent yesterday afternoon touring the site. "I think you are going to see that Nationals Park became a church--if only for one day."

But before that are lots of logistics. Wuerl pledges that they can get 46,000 people through Communion in less than 20 minutes. Three-hundred deacons will be stationed around the park, so Catholics won't have to leave their section to receive the body and blood of Christ.
Emphasis added. In fact, I've been idly wondering over the past few days just how the heck the Host could be distributed to 46,000 people, especially people stacked up in stadium seating, in anything under about five hours. And for some reason, I keep having visions of squads of deacons armed with those tee-shirt cannons they use during games: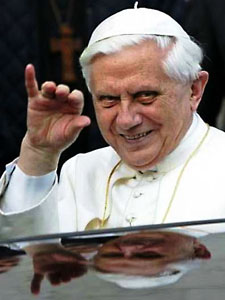 "Cardinal Smithers! Some more shots down the left field line!"
I kid. I KID! St. Vitus, ora pro nobis!
No, btw, I won't be going. However, I know some people who are, and whom I am sure will tell you all about it.
Posted by Robert at April 16, 2008 10:26 AM | TrackBack