April 09, 2008
Gratuitous Civil War Geek Posting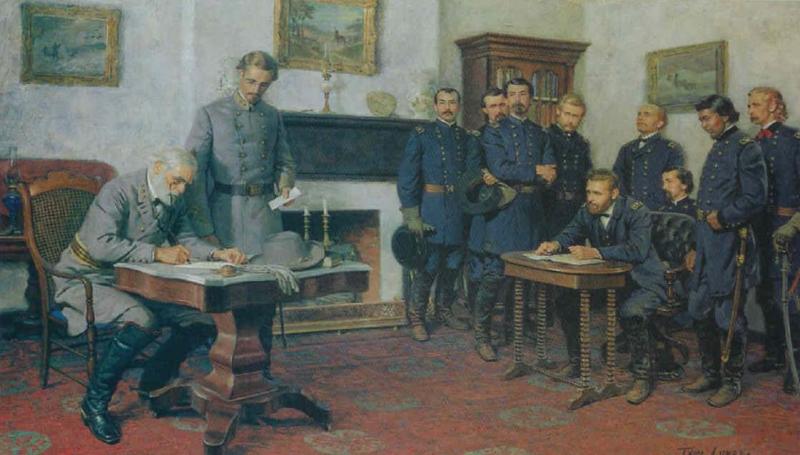 (That is Col. Walter Taylor, Lee's Aide, standing behind him. On the Union side, the line behind Grant is anchored on the left by "Little Phil" Sheridan and on the right by George Armstrong Custer.)
On this day in 1865, Robert E. Lee surrendered the Army of Northern Virginia to Ulysses S. Grant and the Armies of the Potomac and the James at the McLean Farm in Appomattox, Virginia, after a cat-and-mouse pursuit from the fortifications around Richmond in which Lee had hoped to pick up some badly-needed supplies and escape either to the south or over the Blue Ridge to the Valley of Virginia. Grant's cavalry was able to hold Lee at Appomattox long enough for the Union infantry to come up, thus finally deciding Lee that to continue fighting was hopeless.
Here is Grant's note to Lee proposing the terms of surrender:
From U.S. Grant To R.E. Lee Appomattox Court-House, Virginia April 9, 1865.

General: In accordance with the substance of my letter to you of the 8th instant, I propose to receive the surrender of the army of Northern Virginia on the following terms, to wit: Rolls of all the officers and men to be made in duplicate, one copy to be given to an officer to be designated by me, the other to be retained by such officer or officers as you may designate. The officers to give their individual paroles not to take up arms against the government of the United States until properly exchanged; and each company or regimental commander to sign a like parole for the men of their commands. The arms, artillery, and public property to be parked and stacked, and turned over to the officers appointed by me to receive them. This will not embrace the side-arms of the officers nor their private horses or baggage. This done, each officer and man will be allowed to return to his home, not to be disturbed by United States authority so long as they observe their paroles and the laws in force where they may reside.

- U.S. Grant, Lieutenant-General. General R. E. Lee.

And here is Lee's response:
From R.E. Lee To U.S. Grant: Head-Quarters, Army of Northern Virginia April 9, 1865.

General: I received your letter of this date containing the terms of the surrender of the army of Northern Virginia, as proposed by you. As they are substantially the same as those expressed in your letter of the 8th instant, they are accepted. I will proceed to designate the proper officers to carry the stipulations into effect.

R. E. Lee, General. Lieutenant-General U.S. Grant
Grant's terms were later amended to allow the ordinary soldiers to keep their horses and baggage as well. Many historians have commented on the generousity of Grant - essentially turning loose all of Lee's men even though other Confederate armies remained active in the field - as well as on Lee's refusal to abuse such generosity or to allow anyone under his command to do so.
Posted by Robert at April 9, 2008 10:41 AM | TrackBack