February 08, 2008
I picked a bad year to give up meth and Red Bull for Lent
Woke up with this song in my head:
Question: is it just me, or does Bono look here a little bit too much like the chick singer for the Pretenders?
Which leads me to this part of Friday Stupid: the derivative music video genre, where yahoos with too much time on their hands reenact famous music videos:

I've always had a chuckle that Rush uses this song as his main theme: it's a bitching song with a great hook.
Here's the antidote:
Aiiiiiie, that's the good stuff.
FRIDAY PENANCE UPDATE: Obviously, I didn't give up being a snarky jackass for Lent this year, but I'm trying to make amends. So I just ordered this for Mrs. P. to make up for my impertinent posting of the Pope dressing like a cowboy: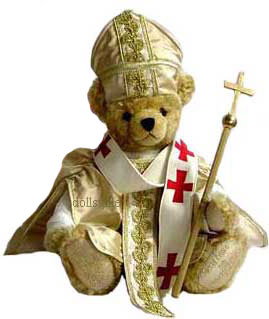 The Abbot? He's getting the JP2 bobblehead: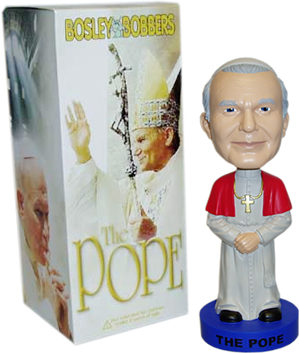 You know I love you guys, even though I scored a "B-UTT-HD" on Meyers Briggs.
Yips! from Robbo: That's our Steve-O! Yip! Yip! Yip!

Posted by Steve-O at February 8, 2008 11:19 AM | TrackBack