January 03, 2008
Whoa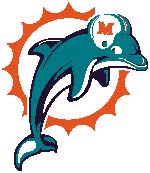 From the Tasty Bits (TM) Mail Sack, the Big Tuna cleans out the dolphin tank:
DAVIE, Fla. -- Cam Cameron was fired as the Miami Dolphins' coach Thursday by new boss Bill Parcells after plunging to an 0-13 start in his first year on the job and finishing with just one victory.

The dismissal comes three days after Parcells ousted general manager Randy Mueller and means the reeling franchise will have its fifth coach in five seasons.

Parcells began work Dec. 27 as executive vice president of football operations and quickly concluded the Dolphins need another fresh start.

It has been 37 years since the Dolphins fired a coach. But they never finished 1-15 before.

All but two members of Cameron's coaching staff were also fired, although some might be rehired by the new head coach, the Dolphins said. Retained were assistant special teams coach Steve Hoffman and linebackers coach George Edwards.

Parcells made the decision to fire Cameron in consultation with new general manager Jeff Ireland, hired Wednesday after seven years in player personnel with the Dallas Cowboys.

"We just felt in order to move forward and not look back, we needed someone in place who shared the same philosophical compatibilities we shared," Ireland said. "We didn't really know the guy that well. We were going to try to get someone that does share those things, and we weren't completely sold that he did."
Buh-bye, Cam. Thanks for playing and we have some lovely luggage and body-care products as a parting gift for you.
So did Parcells throw away a potentially valuable resource who, given a few years, could have brough the 'Fins back just to placate the howling mob who wanted Cameron's head, thus giving himself (Parcells) some breathing room? Or did Cam really just suck that much as a coach?
I dunno. But now that Cam's gone, what do I do with this torch and this extra-sharpened pitchfork?
Posted by Robert at January 3, 2008 12:34 PM | TrackBack