November 14, 2007
Gratuitous Musickal Posting (TM)
Interesting little tidbit: today is the anniversary of the births of both Leopold Mozart (father of Wolfgang) in 1719 and Johann van Beethoven (father of Ludwig) in 1740.
It also happens to be the anniversary of the birth of Aaron Copland in 1900.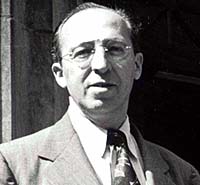 Copland represents the closest brush with musickal greatness I'm ever likely to have. My parents were active in the Symphony Society back in the San Antonio of my yoot and it happened to be their turn to host the reception when Copland came to town to guest-conduct. (This would have been some time in the late 70's.) By then, he was a cranky old man. He autographed a music book for me, albeit grudgingly, which I have long since lost. (On the other hand, I still treasure my autographed photo of the great cellist Leonard Rose, my second closest brush with musickal greatness. A completely different character, too. I also happen to have a book of Mozart's works for four hands, one piano autographed by Rudolph Firkusny, who also indulgently sight-read through a bit of one of them with me. Now there was a really nice guy.)
Frankly, while I recognize Copland's contribution to American music, I don't really much care for his compositions. The folk-tune stuff gets old, fast. And "Fanfare for the Common Man", with its over the top brass and percussion and its conscious egalitarianism, leaves me cold.
Posted by Robert at November 14, 2007 10:10 AM | TrackBack