October 17, 2007
Happy Birthday, Ladies!
Today is the anniversary of the birth of a couple of stars from Hollywood's Golden Age: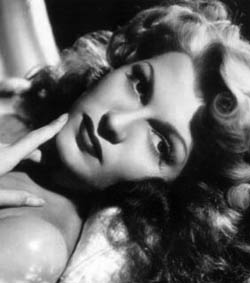 The sultry Rita Hayworth was born this day in 1918 in Brooklyn.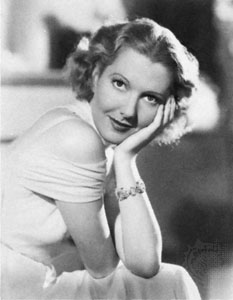 The perky Jean Arthur was born this day in 1900 in Plattsburgh, NY.
The two starred together with Cary Grant in the 1939 Howard Hawks film Only Angels Have Wings, in which Grant delivered the famous (but now often mangled) line to Hayworth, "You're no good, Judy. And you never were."
Frankly, if I had to choose one, Miss Hayworth certainly had looks, but I think I'd go with Miss Arthur. She had an irresistable liveliness on screen and could be hysterically funny when she wanted to be. (She starred with Grant in another terrific movie, The Talk of the Town, which you really ought to see if you haven't.) I seem to remember reading somewhere that she suffered horrible stage-fright throughout her career, but you certainly wouldn't know it looking at her performances.
Trivia Yips! from Gary:
Before David O. Selznick met Vivien Leigh, Jean Arthur was one of the three finalists to play Scarlett O'Hara in "Gone With The Wind" (along with Joan Bennett and Paulette Goddard).
Posted by Robert at October 17, 2007 01:32 PM | TrackBack