July 26, 2007
Happy Birthday, Mr. Shaw!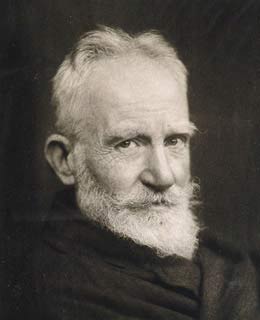 Arguably the single funniest, most wicked playwrite in the entire history of the English language was born this day in 1856. Here's a little bio on the man.
Mom and I happened to be discussing Mr. Shaw the other day, and this discussion led to a broader question: What is it about the Irish that makes them all so goddam funny? There is no humor quite like Irish humor for its combination of deadpan, twinkly eye and latent ferocity, and so many of the Irish seem to be blessed with it that when one comes across an Irishman with no sense of humor, as I have once or twice in my career, it's a genuine shock to the system.
Anyhoo, I suppose I could go into a deeper discussion of Shaw's writings, or else into a larger consideration of the historickal influences that shaped the Irish character, but it's too hot and humid and my brain is too far gone into the pre-vacation doldrums for me to muster the energy to do so. Instead, I'll give you a stream of bat's piss:
Posted by Robert at July 26, 2007 08:47 AM | TrackBack