July 17, 2007
Feed The Llama Meme - Update
In response to my ongoing Gratuitous Feed the Llama Meme -which will remain open the rest of this week - The Irish Elk reminded me of a cookbook I have stowed away among my Royal Navy Geekery collection: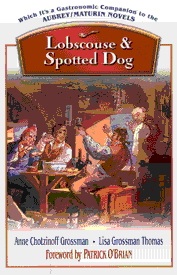 Lobscouse and Spotted Dog: Which It's a Gastronomic Companion to the Aubrey/Maturin Novels, by Anne Chotzinoff Grossman and Lisa Grossman Thomas.
Of course. Of course! Why didn't I think of that? With all of the time on my hands, surely I can cobble together at least one gen-u-ine Royal Navy officers' dinner. Oh, ha ha ha ha!
This is true especially as I am just finishing up rereading H.M.S. Surprise for the umpteenth time. A week or two ago I admitted that I had started on the series again but was going to limit myself to one book at a time, reading other authors in between. Well, that didn't seem to happen, as I quickly went through Master & Commander and Post Captain. But I'm going to stop now for real - the first three books encompass what might be called the First Rise of Captain Aubrey, and it's more than natural to wait a bit before carrying on the first plateau of his success with The Mauritius Command. In the meantime, Tom Wolfe and G.K. Chesterton are next in line.

Posted by Robert at July 17, 2007 10:10 AM | TrackBack