July 18, 2007
Heh
***UPDATED AND BUMPED***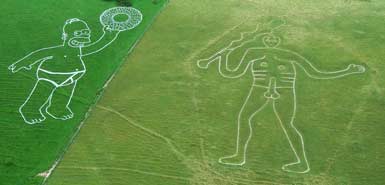 Okay, I generally don't much care for promotional stunts, but this is pretty damn funny.
Pagans have pledged to perform "rain magic" to wash away a giant picture of Homer Simpson that has been painted next to the Cerne Abbas Giant, their famous fertility symbol.

The image of the Simpsons character, which is 180ft (55 metres) tall, appeared next to the giant as part of a publicity stunt to promote The Simpsons Movie, which is due to be released this month.

The 17th-century chalk outline of the naked, aroused, club-wielding giant is believed by many to be a symbol of ancient spirituality. Many couples also believe that the Giant, which is carved in the hillside above Cerne Abbas, Dorset, is an aid to fertility.
If the "rain magic" doesn't pan out, the pagans ought to fall back on the Homeresque six-pack-of-beer-and-letting-Nature-do-her-thing magic.
UPDATE: Did somebody say ring-toss?
Yips! to Gail at Scribal Terror.
Posted by Robert at July 18, 2007 06:00 PM | TrackBack