June 28, 2007
Blow Winds! And Crrrrrack Thy Cheeks!
Yikes! I may never go outside again! From Wunderground.com (the premier weather-junkie website):
Severe thunderstorms... are possible this afternoon and evening across eastern West Virginia... northern and north central Virginia... central and western Maryland... and the District of Columbia. Residents across the region should monitor this situation very closely and ensure your NOAA weather radios are set to alert Mode. Severe weather warnings may become necessary this afternoon and this evening. Here are some safety rules to keep in mind when severe weather is expected or is occurring.

Before severe weather strikes... ensure that you and your family
are fully prepared. In a home or building have a pre-designated
shelter... such as a basement or an interior room or hallway.
Have on hand a disaster supply kit... including a NOAA Weather
Radio... flashlight... radio and a good supply of batteries.

If a severe thunderstorm or Tornado Warning is issued... seek shelter
indoors immediately. A severe thunderstorm is defined as producing
penny size or greater hail and wind gusts of 58 mph or more.

Tornadoes often form very rapidly from severe thunderstorms. If
you are in a Tornado Watch... and a Severe Thunderstorm Warning is
issued for your area... monitor local conditions closely and be
ready to take quick action to save your life.

Remember that lightning is a thunderstorms most underrated killer.
Postpone outdoor activities if thunderstorms are imminent. This
is the best way to avoid being caught in a dangerous situation.
Automobiles offer good protection from lightning... although moving
indoors is best. Even inside... lighting can kill by coming through
the phone lines... plumbing and electric lines. Therefore do not
use computers... telephones or other hand held appliances during a
storm.
Since we've long held the crown for Alexandra Steele bimbo google-hits, I'll simply note that this statement is downright WeatherChannelesque in its alarmist rhetoric. Has anybody ever done a horror movie about super-mutant genius killer lightning that gradually learns how to work its way into even the seemingly safest places? I'm thinking of a pairing of Samuel L. Jackson and Helen Hunt as the plucky meteorologists sent to try and stop it. (Jackson: "There are too many mutha-effin volts in its bolt!" Hunt: "Cow!")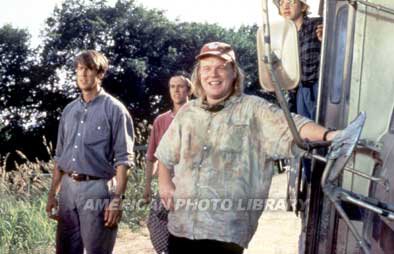 "Dude! We like so forgot to include the racial angle last time! Good call!"
BTW, I learned recently (in fact yesterday) that the old your-car-is-a-safe-place-in-a-lighting-storm meme actually does not apply to ragtops like, er, mine. It would seem I have been misleading myself and my family for some time now.....

Posted by Robert at June 28, 2007 01:02 PM | TrackBack