June 11, 2007
Wow
The Irish Elk links to a story about the incredible finish of this weekend's Yale-Harvard Boat Race:
NEW LONDON, Conn. -- After seven years of finishing this race shirtless and forlorn, there was only one way for Yale's heavyweight crew to row yesterday afternoon's 142d 4-mile event. "Go for the throat," captain Patrick Purdy had declared.

And so his fellow Bulldogs did, making up an open-water gap in the final half-mile on the Thames River to catch archrival Harvard at the line and win by a half-second in what may have been the greatest comeback in the history of the nation's oldest collegiate sporting event.

"To be able to come from behind against an Eastern Sprints-winning crew, nobody would have predicted that," said Yale coach John Pescatore , after Yale (19:57.50) had knocked off the Henley-bound Crimson (19:58.00) in the closest race since 1914, when Yale won by two- 10ths of a second.

It was the first time the Bulldogs had won since 1999, only the third time since 1984, only the seventh time since 1962, and the first time they'd done it upstream in 23 years.
Go read the rest. Friends, I was only a minor duffer back in the day compared to these guys, but let me tell you that Yale put in one serious gut-check performance here. My knees and hands begin to ache all over again just thinking about it.
The other amazing thing about the article? The fact that Harry Parker is still coaching at Harvard. Been there 45 years now. 20-odd years ago, Steve-O and I and the LB Buddy all rowed for a guy who had rowed for Parker back in the early 70's, and even then we thought our coach was a dinosaur.
Everybody always said Parker was the God of rowing coaches - it seems as if this emerging immortality is proving it.
UPDATE: In case you're interested in competitive rowing, may I suggest: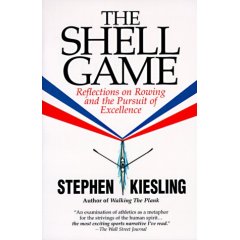 The Shell Game by Stephen Kiesling.
The book is an account of Kiesling's experience rowing for Yale in the late 70's (including going up against Harry Parker's Harvard juggernaut), as well as his effort to join the 1980 U.S. Olympic team.
It's been a long time since I read it (some girl stole my copy - a birthday present inscribed from my Trin-Face heavyweight cousin, no less), but I recall that Kiesling neatly captured the beauty and psychology of rowing crew.

Posted by Robert at June 11, 2007 03:18 PM | TrackBack