June 11, 2007
Gratuitous Llama Netflix Movie Review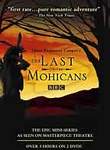 The Last of the Mohicans (1971).
The old Beeb mini-series, not the 1992 abomination. I suppose it's just a holdover from many years of watching Mawsterpiece Theatre as a kid, but I've always enjoyed the dramatizations of this era, which are typically notable for their excellent acting, faithfulness to the original text and poorish production values occasionally bordering on the outright silly.
TLOTM is no exception to this pattern. It is characterized by some really nifty performances by, among others, Andrew Crawford as Col. Munro, and Philip Madoc, whose blazing eyes make him an especially sinister Magua, the Huron villain of the piece. On the other hand, the producers apparently could only afford about thirty or so extras, so the massacre at Fort William Henry, for instance, seems a bit....pedestrian.
This production also sticks very closely to the novel. One of the (I assume) unintended consequences of this is that Hawkeye (played here by Kenneth Ives) comes out sounding like a real prig. If you've ever read J. Fenimore Cooper's original, you know exactly what I mean. When he's not busy deducing the size, speed, direction and favorite venison dishes of an enemy war party from a single bent blade of grass, Hawkeye spends an awful lot of time pontificating about the depredations of eeeeevil Civilisation on the earthly Paradise of the native tribes. In fact, Cooper himself was the son of a very wealthy land agent, attending the best schools and nabbing a diplomatic post in France. He was, in effect, a limousine liberal of his time, and was no more a real backwoodsman than I am. His bloviations through the mouth of Hawkeye, therefore, quickly become ridiculous. (They might not have been so bad if Cooper's prose style hadn't been so bloody awful - turgid, pompous and laborious. And if you don't value my opinion, take a look at what Mr. Samuel Clemens had to say about it.)
Hawkeye's outbursts of Rousseauian piety aside, the story moves along quite nicely and is thoroughly enjoyable. However, if you're a fan of the 1992 movie, you might get thoroughly confused by it, as that film made an absolute hash of the original plot, hooking up the wrong sets of lovers, turning honest, noble Major Heyward into an oily, deceitful coward, and killing off the wrong main characters. I can only assume that the producers reckoned since all the female audience members would be drooling over Daniel Day-Lewis and all the male audience members would be thinking how coo-el the seige of Fort William Henry was (and also because nobody reads Cooper anymore), nobody would notice these changes.
Robbo's Recommendation: Four Yips! out of Five because I've been on something of a French & Indian War kick lately and because, as I say, I have a fondness for these old series. Your results may vary.
UPDATE: For the benefit of the ladies, I was going to post a pic of Mr. Day-Lewis in full homespun buckskin kit, but GroovyVic already beat me to it. Go on over to her place if you want to do some drooling.

Posted by Robert at June 11, 2007 11:57 AM | TrackBack