June 04, 2007
Happy Birthday, Farmer George!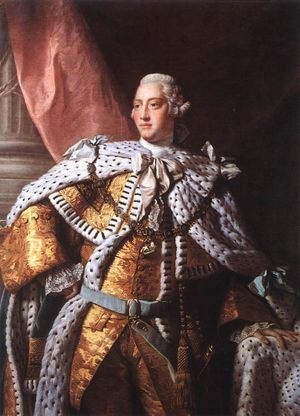 His Majesty George III was born this day in 1738. Of course his reputation in America is forever poisoned owing to his stubborn, ham-fisted and incomprehensive treatment of the Colonials, but just keep in mind that these things flowed in both directions - the Brit attitude on a wide variety of matters including trade, taxation, representative government and military service was as alien to the Americans as was the American attitude on these subjects to the Brits, and it would have taken a monarch of far deeper understanding, patience and foresight than Ol' George ever had to successfully and peacefully navigate around them.
For all that, George was IMHO an excellent king. He was intelligent and keenly mindful of his duty to his subjects. He was an enthusiastic supporter of science, exploration and the arts. He presided over the rise of the British middle class. And not only did he face down the Jacobin swine of Revolutionary France, he then went on to take out Napoleon, never giving up even though Britain at times was fighting virtually alone. It's a real pity that his later years were so marred by mental illness and his lout of an eldest son. He deserved much better than that.
UPDATE: Speaking of which, I assume you've all seen The Madness of King George? One of my favorites. Not only is the cast, headed up by the great Nigel Hawthorne, superb, but the movie is extremely sympathetic as well. I particularly like the treatment of my all-time-favorite prime minister Billy Pitt, as well as that of those arch-toads George IV and Charles James Fox.
Posted by Robert at June 4, 2007 09:42 AM | TrackBack