June 04, 2007
Happy Birthday, Rosalind Russell!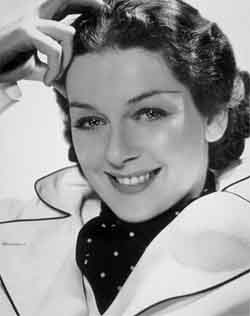 Born this day in 1907 in Waterbury, Connecticut.
I have to confess that the only Russell movie I think I've ever actually seen in the great His Girl Friday with Cary Grant, but durn is she worth watching there. Maybe not the most physically beautiful woman in the world, but she had a certain oomph about her, as if she could thrash you in tennis in the afternoon and match you glass for glass of single malt in the evening, keeping up a steady flow of barbs and wisecracks all the time.
Yes, indeedy.
Posted by Robert at June 4, 2007 08:50 AM | TrackBack