May 25, 2007
Gratuitous MLB Posting - Northeast Division
Well, here we are creeping up to the end of the first act of the 2007 Major League Baseball season. And it's time to take stock of the landscape in the NL and AL Eastern Divisions. Why? Because it's the Friday before Memorial Day and everyone is either traveling or counting down the hours at work not getting very much done. Humor me.
The New York Mets are playing damn good baseball but have yet to experience a stretch where the team is firing on all cylinders. With their Ace pitcher, Pedro Martinez, out until August 1 and Orlando "El Duque" Hernandez just now coming off the 15-day DL, various spots in the line-up have been alternating slumps - Delgado, Wright, now Jose Reyes. Even middle reliever Guillermo Mota isn't due to take the mound until the end of May. Two regular starters - Moises Alou in the outfield and Jose Valentin at second - are also on the bench nursing minor injuries.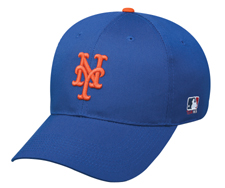 So considering all these challenges, I'd say first place by two in the loss column ahead of the Braves is pretty damn good. Atlanta took the series last night 2 games to 1 after a wicked pitchers duel between two Cy Young Award winners at "the Ted".
Don't get me wrong, Atlanta will be nipping at the Mets (and maybe even flipping back and forth between first and second a couple times) all the way to September 30th. But the Braves record in May is not as good as it was in April when they got off to a hot start. The Mets - injuries and all - have an almost identical winning percentage in both months and their longest losing streak to date has been two games. [Sidebar: Be sure to check out Jayson Stark's article on how overrated a Center Fielder that smirky little asswipe Andruw Jones is at ESPN.com]
As for Philly and the Fish, they seem to be hell bent on fighting each other for third place. At least Philadelphia is only 20 losses away for a record 10,000! And the Nationals. Out of respect for Robbo, I'll skip over that one.
Two other pitching notes on this last series in Atlanta. Oliver Perez is proving not only that he's the real deal but that he's become a bona fide Braves killer. And Joe "who the hell is joe smith?" Smith has been almost unhittable in middle relief. The best quote about Smith's domination in Wednesday's game comes from Toasty Joe: "Joe Smith made [Larry "Chipper" Jones] look like an 8-year old girl swinging a wiffle bat in her parent's back yard."
Heh.
Now the American League East.
The big story is obviously the implosion of the Yankees. No, they're not dead yet. The Red Sox had a chance to slam the cellar door on them this week and instead allowed New York to hold to the dim hope that they can overcome a 9.5 game deficit and return to their glory days.
Let me step back a minute and give the Yankees some credit. The achievements of that team during the 1995-2000 era was nothing short of unbelievable. Since that time - as Borat would say - "not so much". Really, the 21st Century Yankees are a poor imitation of that late-90's team that had the kind of intangible team chemistry that made them such a phenomenon.
Like an aging porn star who keeps having "work done" to her once perfect body, the Yankees of today graspingly sign big name free agents in an attempt to replace the missing parts that have inevitably fallen away or whithered with age. The most recent example obviously is Roger Clemmons. Short-term solutions sometimes bring short-term results. You can replace some of the horses, but in the long run it's really only a matter of time before the Merry-Go-Round breaks down.
The Red Sox are too good this year not to win that Division and the rest of the American League is too good for New York to realistically hope to make the playoffs. Yankees fans got complacent over the last eleven years. A sense of post-season entitlement crept into their psyches. Right now, they're experiencing the third Stage of Grief.
They passed Denial in April ("I can't believe they're not freakin' winning"). They got over Anger earlier this month ("Freakin' Torre! Freakin' Cashman! WTF?!?"). Now they're in the stage of Bargaining ("Oh, just pay freakin' Clemmons whatever he wants and maybe we can save the season"). By August, I suspect most of them will hit Depression ("When is freakin' NFL kick-off weekend this year?").
But the final stage - Acceptance - may prove to be too elusive. You have to have a certain level of maturity to get there. And that could take years for most Yankees fans.
Posted by Gary at May 25, 2007 10:20 AM | TrackBack