May 23, 2007
Gratuitous Obscure Musickal and Historickal Posting (TM)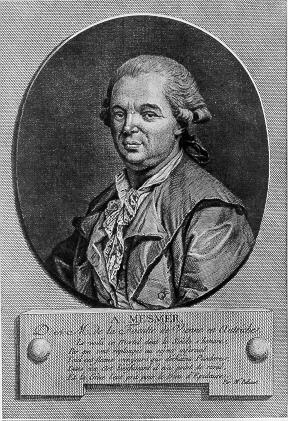 Today is the birthday, in 1732, of Dr. Franz Anton Mesmer, from whose name we get the modern verb "to mesmerize." Dr. Mesmer was interested in the effects of gravity and magnetism on the human body and believed (or at least got many patrons to pay him to pretend to believe) that so-called "animal magnetism" - an artificially-induced state of hypnosis - could be employed to cure what ails ye.
Mesmer only occupies a chink in the Brain o' Robbo because Mozart, who was a friend of his, made some gentle fun of him in his opera Cosi Fan Tutte:
Act II, Scene 16
Enter Despina disguised as a doctor, Don Alfonso

DON ALFONSO
Here's the doctor,
Gentle ladies!

FERRANDO AND GUGLIELMO
aside
Despina dressed up!
How heavily she's disguised!

DESPINA
"Salvete, amabiles,
Bonae puellae!"

FIORDILIGI AND DORABELLA
He speaks a language
We do not understand.

DESPINA
Let's speak, then,
As you command me.
I know Greek and Arabic,
Turkish and the Vandal tongue;
And I can speak
Swabian and Tartar too.

DON ALFONSO
Keep all these languages
For yourself, sir;
For the moment,
Look at these poor fellows;
They've taken poison;
What can be done?

FIORDILIGI AND DORABELLA
Yes, doctor,
What can be done?

DESPINA
feeling the pulse and forehead of each
First I must know
The nature of this potion
And the reason it was taken;
Whether it was swallowed
Hot or cold,
A little or much,
In one draught
Or in several.

FIORDILIGI, DORABELLA AND DON ALFONSO
They took arsenic,
Good doctor,
And drank it here.
The cause was love
And they swallowed it
In a single gulp.

DESPINA
Don't worry,
Don't be afraid;
Here is an earnest
Of my skill.

FIORDILIGI AND DORABELLA
He's taken a piece
Of iron in his hand.

DESPINA
This is
A piece of magnet,
The stone which the great
Doctor Mesmer discovered
In Germany
And then became
So famous in France.

She touches the heads of the feigned invalids with the magnet and gently draws it the length of their bodies.
In most of the productions I've seen, that last stage direction is liberally interpreted, much to the satisfaction of the audience.
The other interesting link is that one of Dr. Mesmer's patients was the young, blind pianist Maria Theresa von Paradis: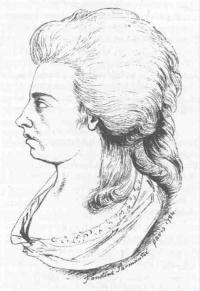 In 1777 Mesmer famously tried (and failed) to cure her of her blindness by the use of his magnetic treatment and, as a result, had to clear out of Vienna for Paris (hence the French fame mentioned by Mozart).
Paradis links back into this mix because Mozart also wrote a piano concerto for her, most likely one of my very favorites, the Concerto No. 18 in B-flat, K. 456. I particularly love the ravishing G-minor andante movement. Evidently, Mozart did, too, because he used a remarkably similar idea for Barbarina's woe-be-gone Cavatina that opens Act IV of Le Nozze di Figaro, "L'ho perduta, me meschina", albeit in a different key and tempo. (If you have Windows Media Player, compare the two here and here (Disk 3, No. 4).) Mozart is not known for recycling musical ideas and the fact that he does so here indicates to me that he must have really liked it. As I say, I do too.
Posted by Robert at May 23, 2007 12:11 PM | TrackBack