November 17, 2006
We Wants It!
The Puppy Blender changes gears a bit today to talk about coffee grinders, including this one: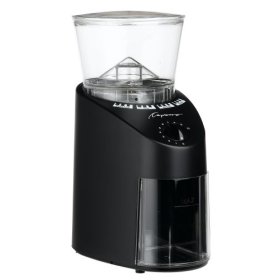 Apparently the thing is a good deal quieter than the the Braun Junior Buzz-Saw I currently use. Sometimes when I'm up first, I have to take the thing out into the garage for grinding in order to keep from waking the entire household.
And speaking of coffee, there's a Frenchman in our town who owns a little cafe. He seems to have the mashers for the Missus, because he's started fresh-roasting bags of beans for her. The stuff she brings home makes Starbucks taste like Folgers. Indeed, it's so superior that I really don't mind this little menage au lait and have encouraged her to stay on his good side.
Mmmmmmm....coffee.....mmmmmmm......

Posted by Robert at November 17, 2006 12:13 PM | TrackBack