November 14, 2006
Shoe? Meet Foot!
Yup.
What Kind of Reader Are You?

Your Result: Obsessive-Compulsive Bookworm

You're probably in the final stages of a Ph.D. or otherwise finding a way to make your living out of reading. You are one of the literati. Other people's grammatical mistakes make you insane.

Dedicated Reader
Book Snob
Literate Good Citizen
Non-Reader
Fad Reader
What Kind of Reader Are You?
Create Your Own Quiz
I believe this question was concocted specifically for me:
9. When the huge blockbuster film version of your favorite book comes to theatres, what do you do?
Heh, heh, heh. I leave it to you to figure out my response. It isn't that difficult. Unfortunately, "Boil the producer in oil" was not a given choice.
Yips! to Citizen Jen.
UPDATE: Speaking of compulsive, here's my latest purchase from the Devil's Website: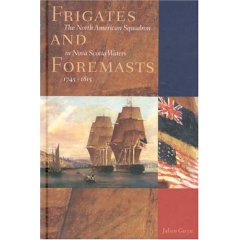 Frigates And Foremasts: The North American Squadron In Nova Scotia Waters, 1745–1815, by Julian Gwynn.
Which it's another Royal Navy Geekfest, ain't it?
Of course, I'll let you know what I think.
Posted by Robert at November 14, 2006 12:13 PM | TrackBack