November 10, 2006
It's Beginning To Look A Lot Like Time To Puncture My Eardrums!
Have I mentioned here before how much I truly hate what is called (in deference to proper inclusive sensibilities of course) the "Holiday Season"?
Here's one of the gajillion reasons why: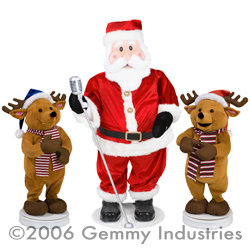 It's Santa's 3-Piece Reindeer Combo Band, featuring a 36 inch Claus who (at least in the warped imaginations of his creators) croons like Sinatra and boogies like Elvis.
One of these abominations was up and running last evening by the check-out line at the local Gourmet Giant (pronounced "Gerr-may Gee-aun" by the cogniscenti). The lady ahead of me asked the cashier how many times he'd had to hear the particular song playing at the moment. With a very, very short laugh, the cashier replied about ten times in the past two hours. The man's hands were trembling.
Posted by Robert at November 10, 2006 09:08 AM | TrackBack