November 09, 2006
A Little Llama USO Post-Election Morale Booster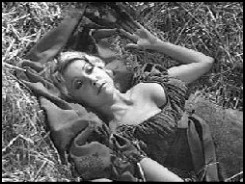 "Hello! Vud You Like A Roll In Zee Hay?"
And while I'm on the subject, let me throw down a couple debating points:
RESOLVED: That Young Frankenstein is far and away Mel Brooks' best movie ever.
RESOLVED: Teri Garr was fabulously babelicious in those days.
BTW, who out there remembers the crush Dave Letterman had on her back in the mid 80's which culminated in his getting her to take a shower in his office while he was doing a show one time?

Posted by Robert at November 9, 2006 02:28 PM | TrackBack