November 09, 2006
I've Got A Baaaaad Feeling About This.
Sometimes seeing history repeat itself can be quite satisfying. Other times, not so much.
In the past 24 hours, watching the elevation of Madame Speaker "Iraq is not a war to be won but a situation to be solved" Pelosi, and the rise of the Bush 41 pragmatists like Baker and Gates has given me a very creepy feeling of impending deja vu about Iraq: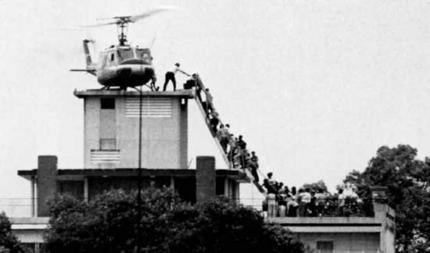 "Sssssseeee ya!"
Merciful God, I hope I'm wrong. But I fear that I'm not.
UPDATE: It's worse.
YIPS from Steve-O: Just in time for the Bush goes to Vietnam story.
Posted by Robert at November 9, 2006 12:19 PM | TrackBack