November 02, 2006
Steve-O? Forget That Theme Party For Little Miss Stubborn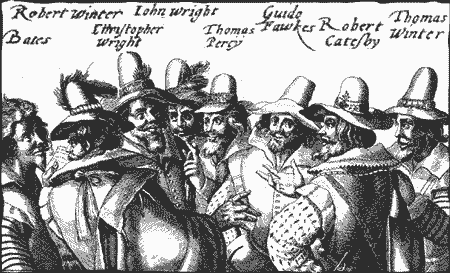 Looks like Guy Fawkes is getting the boot.
Guy Fawkes has been banned by council bosses in east London - and replaced with a Bengali folk tale. Tower Hamlets said it wanted to provide an "alternative" theme to celebrate November 5 and the attempt to blow up the Houses of Parliament.

The council has commissioned a £75,000 fireworks display entitled the Emperor and the Tiger, which tells the story of the "Moghul Emperor, the Wise Man and the Guardian of the Jungle". As a mock Bengal tiger paces a giant catwalk, fire will light up a "forest" to the sound of Bangla drummers and dancers.

* * * * * * *

One third of Tower Hamlets' population of 196,000 is Bengali - about 65,000. But Bengalis dominate the council and its cabinet with 31 of the 51 councillors. Tower Hamlets council insisted they were neither being politically correct nor forgetting the Gunpowder Plot.

Officials said: We did Guy fawkes last year" and insisted it was their tradition to have a different theme each year. In a statement, a spokesman said: "And this differentiates our celebrations from other boroughs and our events are proving to be extremely popular.

"Our sole aim is to stage an exciting event - on the traditional Fireworks Night - that will attract the interest of as many people as possible. Since introducing the themed events four years ago, visitor numbers have increased from 3,000 to a massive 23,000 people at last year's event. Let's judge the event by how much people enjoy themselves on the night."
Words fail me on this one. I got nothing. Nada. Zip.
But if this sort of thing spreads, I would strongly suggest that Uncle Sam put in an application at Mickey Dee's before the next 4th of July.
(Woodcut above swiped from this neat-o site that has lots of info on the original Gunpowder Plot. Plus mugs and tee-shirts.)
Posted by Robert at November 2, 2006 04:25 PM | TrackBack