November 07, 2006
I'm Robbo the Llama And I Approve This Post
TWO MINUTE DRILL UPDATE: 11/5/06, 6:00 PM: Okay, folks, it's 48 hours and change until this is all over and I believe the GOP is in the Red Zone. Despite the fact that the polls are all over the place and the MSM is practically accusing the (R) Team of biting the heads off live babies, I believe it is still very, very close. And at least according to my most trustworthy source, the Big Mo is swinging our way.
Here are some things I don't believe: I don't believe in a Donk "wave". I don't believe the vast majority of polls are all that accurate any more. I don't believe that the GOP Base - whether it be evangelicals, fiscal hawks or Fortress America immigration types - is going to sit on its hands this time.
Instead, I believe the GOP is going to hold. A week or two ago, I predicted to Steve-O a loss of 7 to 9 in the House, 3 in the Senate. Well, I'm not backing off of that. Am I crazy? Perhaps, but we don't call these posts "delusional rantings" for nothing. Then again, I won my office pool in 2002 and we ran the boards on the Electoral College in '04. So who knows?
Anyhoo, as I say, we're inside the 20. Let's get out there and convert!
YIPS from Steve-O What he said! Plus a little bit of this as motivation for the type of GOTV we want over the next day and a half: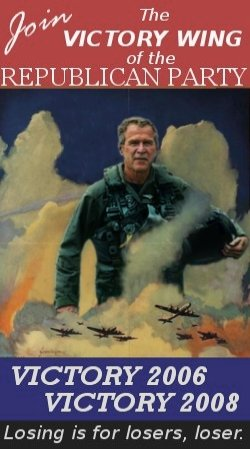 I'm leaving this stuck to the top until Election Day. The punditistas say it's now a matter of rallying the base, so I feel it's my obligation to do what I can.
Friends, it's simple - A Donk takeover in the House or Senate this year would be disastrous to the GWOT in all its theatres and manifestations because the Donks are more interested in getting Dubya's scalp than they are in actually, you know, fighting the bad guys who've vowed to kill us all. In my simple calculus of working in close proximety to the likely next target of said bad guys, that's a hightened risk I have no interest in taking, either for myself or for my family. Oh, and I don't particularly care to be taxed back to the Stone Age either.
So, message to GOP supporters, whether RINO, Fundamentalist, Big Money, Security Mom or Whoever the Hell Else - let's get out there and win this one!
UPDATE: SOOPER SEKRET MESSAGE TO FELLOW CONSERVATIVE BLOGGERS: Okay, guys, help me out on this!
UPDATE DEUX: SOOPER SEKRET MESSAGE TO WHOEVER PUT TOGETHER THIS POSTER: I can't find the original and forget where I found it, but it is a kick-ass classic. Shoot us a line and I'll update this update to give full credit.
UPDATE DEUX UPDATED: The Colossus I.D.'s Point Five as the fons et origo of this idea.
OCT 13 YIPS from Steve-O: Okay, let's turn this into the all-purpose vote-whoring flogging the base posting.
For you RethuggliKKKHANS out there who have suddenly gone all "Oh Brother Bluto, I'm afraid, we no longer deserve the majority, Rumsfeld, whaaa, I'm going to add my measley vote in my blue state as a protest" I've got something for you:
1. Sweet Dreams with Charlie Rangel

This version has the virtue of not only being Paul McCartney free, it also has Clapton wailing away. In God We Trust, indeed.
I'm going to try my hand over the weekend with Flash Media to do a new video version of this featuring a dancing Charlie Rangel.
YIPS from Steve-O: The Colossus is getting in the spirit! (In the process, getting me exactly in the frame of mind needed to go lecture on Rousseau's Social Contract in 10 minutes.)
Posted by Robert at November 7, 2006 01:00 AM | TrackBack