September 27, 2006
Embracing Your Inner Fawlty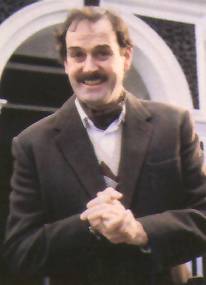 Here's a short history of the Gleneagles Hotel, Torquay, Devon, the original inspiration for the insanely funny tee vee series Fawlty Towers, starring John Cleese and Prunella Scales. Cleese's Basil Fawlty supposedly was based on the owner of the hotel in 1972 when the Python troupe stayed there, a Mr. Donald Sinclair, whom Cleese described as "the most wonderfully rude person" he'd ever met.
The association between Gleneagles and Fawlty Towers has hung around for years and years and for a while was deeply resented. However, the current owners of the place, recognizing a good marketing idea when they saw one, recently decided to play up the Fawlty angle by inviting Prunella Scales down to do a little re-opening publicity, complete with a replica of the little red Austin 1100 with which Basil came to blows.
Ms Scales said that the enduring appeal of the Fawlty Towers series, created by John Cleese and Connie Booth - who played waitress Polly - was the "very good writing".

"It was all about men and women, power and pain," said Ms Scales, making her first visit to the hotel.

Ms Scales side-stepped a few hiccups that would have been worthy of Fawlty Towers.

First the red Austin 1100 she arrived in stopped shy of the red carpet, which had to be hastily re-arranged by hotel staff.

She was unfazed by a replica Basil.

Then she lost no composure when her speech was interrupted by the voice of US actress Joan Rivers on the public address system, giving her approval to the hotel's £1m revamp.

Brian Shone - who co-owns the hotel with Terry Taylor - said that 20 years ago Torquay wanted Fawlty Towers "wiped off the map".

"We have done Torquay a favour, we have put it on the map," he said.

The Torquay hotel owners are embracing its history. "You cannot get rid of the spirit of Basil, so you have got to embrace him."
I think this is a pretty neat idea. Wonder if there are any Siberian Hamsters left on the premises.
Posted by Robert at September 27, 2006 02:45 PM | TrackBack