September 19, 2006
Holy Happy Birthdays, Batman!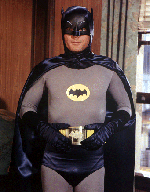 Adam West was born this day in 1928 in Walla Walla, Washington.
IMHO, trying to replace West as Batman in all those movies was the equivalent of trying to fill the role of James Tiberius Kirk with somebody other than Bill Shatner.
Accept no substitutes.
UPDATE: 'Course, I have the same opinion about Dirk Benedict and Starbuck, so what the hell do I know.
YIPS from Steve-O: Cough.
And wouldn't this violate the rule I thought we had agreed upon about no more Battlestar Galactica blogging, hmmm?
Posted by Robert at September 19, 2006 08:28 AM | TrackBack