September 15, 2006
Friday Movie Question - Close To Home Division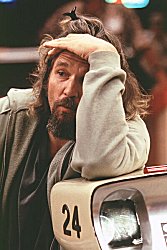 Uncle Dave?
I tried again the other night to watch The Big Lebowski.
Well, actually, I did watch it. What I mean is that I tried again to enjoy it.
And once again, I failed.
I would really like to like this film. It's clever, it's full of priceless dialogue, the actors are terrific, etc., etc. But there is one serious problem.
The Dude. I can't get over the Dude.
Y'see, the trouble is that I have a long-lost uncle who could be the real-life dead-spit ringer for the Dude. Considerably younger than my father, he hit college right at the height of the hippie movement. And in his impressionable teenaged state, he swallowed the Free Love plus Free Pot equals World Peace bit hook, line and sinker, completely oblivious to the fact that he was being used simply as cannon fodder by the more forward thinking leaders of the movement who now occupy positions of power in government, business and society.
After college and an abortive couple weeks of law school, he drifted in and out of a few small-time jobs and a few common-law marriages. The last I heard of him was about ten years ago when, so the report goes, he was working as a part-time bartender and sleeping on a friend's sofa.
So while in the film, the Dude's deadbeat lifestyle is portrayed as quirky, funny and sometimes surreal, all I can see is the real life pathos of my derelict uncle.
So how about it - have you ever had this kind of experience with a character out of stage, screen or literature?
UPDATE: Smart-asses. Bet if Sheila asked a question like that you wouldn't be ragging her, now, would you?
YIPS from Steve-O: On a more serious note, I have the same Uncle, in that my Dad's younger brother has the excuse of being actually quite mentally ill (a full blown paranoid-schizophrenic).
But on a much more serious note (from a, erm, traffic-building perspective that is), I think we need a full, umm, blown discussion on whether or not Phin's sister in law is in fact a porn star. He alleges in the comments section:

"I ran into a similar situation where my sister-in-law looked like a chick in an "adult movie". I wasn't so much disturbed as I was, um, turned on. Well at least until the missus killed the dream and said there was no way in hell her sister was that naughty, bendy or willing to have relations in front of a camera.
I think we need to do some old-school, Reutersgate blogswarming on this. Only the Army of Daves can determine, once and for all, the age old question: has Phinneas just found himself in a cheesy melodrama with Richard Chamberlain in the lead roll as a noble and selfless blogger tormented by the realization that his sister in law starred in "Becky Bops Boise."
I can almost see the IMDB listing now.....
PICAROONISH PIXELS OF DESIRE

Richard Chamberlain..............Phinneas Blogbody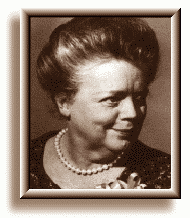 Aunt Bea...............Clarice Tootlelanker aka "The Sister in Law"

Let me just add that I think "Naughty, Bendy, and Willing to Have Relations in Front of a Camera" should become the "Democracy, Whiskey, Sexy" of the 2006 Election Cycle.
Posted by Robert at September 15, 2006 11:11 AM | TrackBack