September 12, 2006
Mid-morning book meme
From our old pal the Irish Elk, what five fictional characters would you like to meet?
1. Pa Ingalls----Just so I could show him my cordless screw driver and watch him weep;
2-5. Jack Aubrey, Half-Cocked Jack Shaftoe, Han Solo, and Sir Harry Flashman---so we could go together and kick the living crap out of Mr. Fitzwilliam Darcy, and then head to Vegas for a Memorial Day Weekend bender on Darcy's AmEx card.
And for a bonus #6: Lord Voldemort---Just to taunt his wizard arse with the fact that the Muggles went to the moon, invented high-speed downloadable internet porn AND the the mircowaveable burrito, and what's he got to show for all his magic: a cabana boy who can turn himself into a rat and a magic wand with an asbestos parrot's feather. OOOOOOOOOOOOOOOOOO! Big man! Soooooooooooo scary!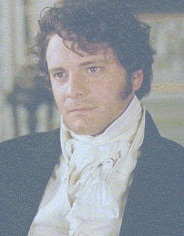 Darcy, dear, what are these charges on the AmEx bill for for "Tijuana Donkey Show"?

Posted by Steve-O at September 12, 2006 09:24 AM | TrackBack