September 08, 2006
That's My Church!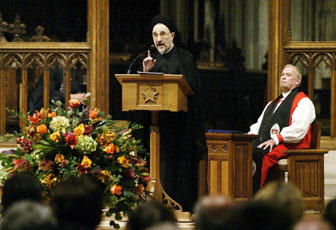 Former Iranian president Mohammed Khatami spoke at the National Cathedral last evening on "the role of the three 'Abrahamic faiths' in shaping peace throughout the world."
As it happens, I caught just a bit of the exchange at the press conference before the speech:
Reporter: Can there be peace between us?

Khatami: Peeeace........Nooooo Peeeace......

Reporter: What is it that you want us to do?

Khatami: Die.........Diiiieeee...........
At that point, the mic cut out.
G.K. Chesterton said something to the effect that one of the first results of a loss of faith was the loss of common sense. The Episcopal Church is often symbolized as a tripod built on three pillars: reason, scripture and tradition. I've long argued that the "reason" leg has grown so long that the whole thing threatens to topple right over. Inviting this man of all people to stand in this place and lecture us on peaceful co-existence is a sign, to me, both of the validity of Chesterton's remark and of the toppling our Church is experiencing.

YIPS from Steve-O: I can't wait for the spirit of comity and fairness to come into play so that Jimmy Carter is allowed to make a similar tour in Iran so he to can give learned and erudite speeches on the decadent nature of the West, the evils of America, and the stupidity of Christianity.
UPDATE: Oh, well. At least I'm not a Presbyterian!
UPDATE DEUX: I went back and looked it up. The Chesterton I'm actually thinking of is: "It's the first effect of not believing in God that you lose your common sense." This, btw, is the apparent root (or one of them) of the most quoted line of Chesterton's that he never actually wrote.
Posted by Robert at September 8, 2006 10:52 AM | TrackBack