July 31, 2006
Gratuitous Gumby Observation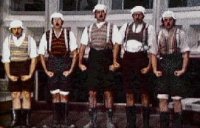 Some of Monty Python's best performances were done on record. This includes The Spanish Inquisition, the Oscar Wilde sketch and the Piranha Brothers. Focused in front of microphones, their timing was often superb, their vocal inflections much more rich and the dynamics of the pieces far, far subtler than what they achieved doing these sketches on tee vee.
On the other hand, other bits of their material worked best on film and still others worked best in live performance in front of their television studio audiences. Apart from other considerations, there must be some aspect or aspects of their acting that shows through best in a given medium. And a sketch based on such aspect or aspects naturally would show to its greatest advantage in that medium.
I wonder how one would go about correlating this.
On the other hand, I've always thought their Live At The Hollywood Bowl concert, done as it was on stage in front of an enormous crowd, was pretty uniformely awful.
Posted by Robert at July 31, 2006 12:57 PM | TrackBack