May 24, 2006
"The Seventh Python"
Watching The Rutles last evening, I was once again reminded how much I like the work of Neil Innes.
Who?
Exactly, which is a shame. He played Ron Nasty, the Lennon knock-off among the Prefab Four in this movie, but most of you would probably recognize him best as the chief of Sir Robin's minstrels in Monty Python and the Holy Grail: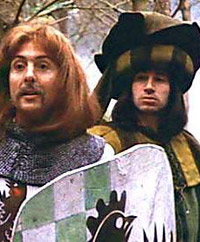 But he's also been involved in a number of other Python-related ventures, including Eric the Viking, Life of Brian and a couple of shows of the last season of Flying Circus. (For which he also wrote some material. Innes and Douglas Adams are the only two non-Pythons evern credited for doing so.) He's never had prominant parts, but every time I see him, he seems so competent and good-natured about it that I can't help smiling. (I noticed that again as I was watching him as Ron Nasty.)
Innes is primarily a musical type and is really quite clever. One of the aforesaid Flying Circus episodes (entitled "The Light Entertainment Wars") closes with a black and white film of Innes as an RAF pilot standing in front of a Hurricane and wooing a girl who becomes increasingly bored and distracted.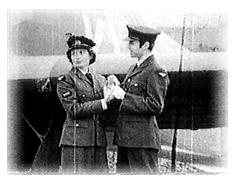 Innes sings a song he wrote called "When Does a Dream Begin" and it's not at all a bad example of period mush:
The outlook for today is mainly tragic,
Cloudy, dull, occasional rain and scattered magic,
But unlike those who say
They prefer the good old days,
I hardly ever feel nostalgic.
And although the intellectually agile,
Can logically prove the heart is fragile,
Drifting unawares
Through all of its affairs,
Nevertheless
Love is still the simple badge I'll proudly wear...

When does a dream begin?
Does it start with a goodnight kiss?
Is it begun when two hearts are one
When does a dream begin?

When does a dream begin?
Is it born in a moment of bliss?
Is it conceived or simply achieved
When does a dream begin?

The vision of you appears somehow
Impossible to resist
But I'm not imagining seeing you now
For who could have dreamed of this?

When does a dream begin?
When reality is dismissed?
Or does it commence when we lose all pretense?
When does a dream begin?

When does a dream begin?
(Lyrics and photo lifted from Innes' own website.)
I've always thought the grainy film, the tinny piano accompaniment and the whole dynamic of the piece to be a perfect cap to what is very close to a perfect Flying Circus episode.
Anyhoo, let me just say hats off! to Mr. Innes, one of the entertainment world's unsung heroes.
Posted by Robert at May 24, 2006 12:58 PM | TrackBack