March 23, 2006
In Vino Veritas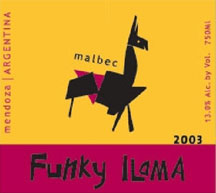 Yes indeedy, it's Funky Llama Wines. The ad copy pretty much says it all:
Meant to be fun and not complicated, Funky Llama is rich in fruit, low in price but not lacking in complexity. These wines are amazingly well-made, and they will hold their own as your new house wines no matter which flavor you end up liking the most. So just have fun! Get a little funky! And don't make wine such a big deal. Remember, wine isn't worth any hype at all, if someone isn't enjoying it!
That's us Llamas: Weird but cheap. Let's party!
Yips! to Chef Mojo.
Posted by Robert at March 23, 2006 01:27 PM | TrackBack