December 16, 2005
Happy Birthday, Ludwig van Beethoven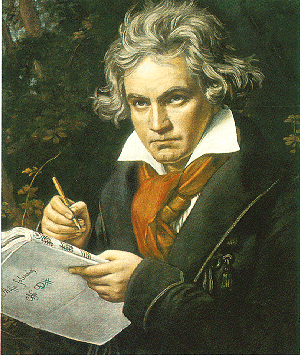 Born this day in 1770 in Bonn. Here's the Grove Music Dictionary biography.
As regular readers know, while I greatly appreciate the genius of Beethoven's music, my appreciation is somewhat dampened by my dislike of the man's overriding ego reflected therein. Basically, he was full of himself and there is no way not to see this in his work. This wasn't just a character flaw peculiar to Beethoven, of course, but also a function of the overall shift in artistic sensibilities embodied by the Romantic revolution, a movement for which I've never had much sympathy. Here is what I had to say on this subject last year. But here is a post where I actually defended the old boy against being tagged with all the sins of Romanticism. That's me, Mr. Fair and Balanced.
As for his music itself, here is a list of Beethoven's symphonies, ranked in order of my preferences. Here is a post I did about my only brush with Beethoven's religious music (which I didn't much like because I didn't really believe he meant it). And I also have some thoughts here and here about some of Beethoven's keyboard music, which I play from time to time.
On the historical front, just this fall stories have surfaced about a newly-rediscovered manuscript and the possible location of the old boy's skull.
Finally, I don't think the day should pass without revisiting the discussion between Mrs. Thing and Mrs. Entity about how Beethoven was really rather glad when he went deaf.

Posted by Robert at December 16, 2005 09:53 AM | TrackBack