December 09, 2005
Second Storm Of The Century Of The Week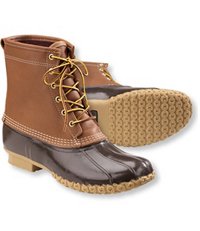 About three inches of snow at the Butcher's House last night, giving the Missus and the Llama-ettes their first snow day of the season today and reducing everybody on the road this morning to a mob of gutless weenies.
It occurred to me as I was putting them on this morning that I've had the same pair of Bean boots for better than twenty years. Are these not one of the greatest products ever created?
UPDATE: Let me just point out to Kathy and the rest of the "Snow? You can't handle snow!" crowd that the two great winter sports around here are 1) freaking out over a single snowflake and 2) making fun of everybody else for freaking out over a single snowflake. Is it childish? Yes. Is it two-faced? Sure. Is it, in fact, pathetic? Absolutely. And does everybody here secretly understand this? You bet.
Think that will stop us? Not a chance. This is Dee Cee - we do everything this way.
Posted by Robert at December 9, 2005 10:02 AM | TrackBack