December 05, 2005
Doing Our Part To Promote Our Nation's Health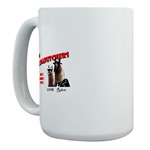 Study: Coffee Reduces Liver Risk
WASHINGTON (Reuters) -- Coffee and tea may reduce the risk of serious liver damage in people who drink alcohol too much, are overweight, or have too much iron in the blood, researchers reported on Sunday.

The study of nearly 10,000 people showed that those who drank more than two cups of coffee or tea per day developed chronic liver disease at half the rate of those who drank less than one cup each day.
I know what you're thinking: Gee, Tom, how can I start receiving the excellent, healthful benifits of St. Joe?
Well for starters, why not nip on over and pick up a Llama Mug! Heck, you could probably even write it off as a medical expense on your taxes. After all, four out of five doctors not surveyed recommend coffee that's meaty, woolly and snippy!
UPDATE: The Llamas scoop Pajamas Media. Who's the man now, Glenn?

Posted by Robert at December 5, 2005 05:36 PM | TrackBack