December 05, 2005
LLAMABUTCHER INDUSTRIES.....WHEN ONLY A GIFT WITH A SMOKING, SUN-GLASSES WEARING LLAMA WILL SAY "I'M TOO CHEAP TO SHOP AT ZALE'S"
[Update: Stuck to the top of the page for a bit until we get a sidebar link up. Because nothing says "top-notch holiday gift ideas" like a couple of llamas in sunglasses on stuff. Scroll down for regular yips.]
Adam Smith rolls over in his grave...
The LLamabutchers Industries Store (Beta) has opened, featuring tastefully appointed fine goods picked from among our extensive staff of personal shoppers who travel the world to bring you only the finest t-shirts and coffee mugs.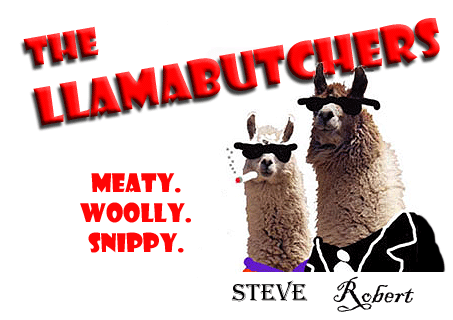 All proceeds will go to charity, if by charity you mean the Rob and Steve DVD and computer game fund.
Yips! from Robbo: Woo Hoo! Let me just say, tho', that any purchase of the Llama Thong by Llama Correspondents or their immediate families is strictly verboten. I just don't think I could handle that.....
YIPS from Steve: New for the discriminating INDC Journal or Beautiful Atrocities reader on your gift list: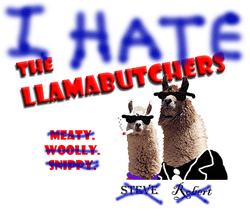 Posted by Steve at December 5, 2005 04:29 PM | TrackBack