December 10, 2005
Gratuitous Llama Blog Orgling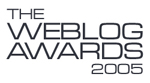 The Missus and the gels are off at some kiddy Christmas party or other and I don't have to get the pork loin into the oven for another hour or so, so perhaps this is the perfect time to give my O-fficial endorsements for the 2005 Weblog Awards. Christ knows when this competition wraps up, but go on over and vote for these fine folks and keep doing it until Kevin calls security.
Two things: First, I've skipped those categories where I simply don't recognize any of the contestants or have any particular preference. Second, I urge you to pay extra attention to the smaller blogger categories, as typically every vote counts among them.
Now, without further ado, may I have the envelope please:
Best Blog - Starting right at the top, I think I'm going with The Corner this year. Where else but with J-Lo, Jonah, the Derb and the rest of the NRO crew can you get such a a nifty blend of politics, Yankees-bashing, time-wasters and stealth Star Trek references?
Best New Blog - Among all the blogs with packing peanuts still clinging to their hair, John at Wuzzadem picks up my vote for his inspired combinations of pictures and dialogue. My sinuses are feeling much better for the regular bursts of coffee that come flying out of my nose when I read his posts.
Best Group Blog - Easy - The Cotillion. I do love the ladies of Moo Knew.
Best Humor/Comic Blog - Not so easy, because several of these are regular favorites of mine. After considering it, I'm going to let the bigger dogs fend for themselves (the two Jeffs don't need our help) and give the Llama nod to the crack young staff of the Hatemonger's Quarterly, with a side vote for Six Meat Buffet.
Best Liberal Blog - Beats the hell out of me, but fer chrissakes don't vote for Wonkette.
Best Conservative Blog - Dr. Rusty might run over our corral with his sandcrawler if we don't endorse him, so go with The Jawa Report.
Best Media/Journalist Blog - Oh, Ferris, you're my hero. The Bleat.

Best Culture/Gossip Blog - Well, duh. BTW, this really ought to be two separate categories.
Best LGBT Blog - I'm not sure why it's here, but Classical Values is a regular read.
Best Business Blog - Asymmetrical Information. Jane Galt is as level-headed as they come.
Best UK Blog - Our old friend Tim Worstall, who I don't think is technically in the UK at the moment, but is a Brit.
Best of the Top 250 - A close one, but I think I'm going with Dean. Martini Boy's been posting light lately and I can't get to Joyner's place via Father Justice's server.
Best of the Top 251-500 - Our good pal Gary the Ex-Donk, of course.
Best of the Top 501-100 - Since our pockets are lined with Vinnie's advertising cash, we're kinda partial to Vince aut Morire.
Best of the Top 1001-1750 - Right Wing Sparkle. Ckick on over and you'll see why.
Best of the Top 2501-3500 - Our pal Don at Mixolydian Mode.
Best of the Top 3501-5000 - Keep your eyes on the Bostonian Exile. I'll bet he boxes in a higher weight division next year.
Well, there you have it. Vote early and often for these guys. And congratulations to everybody who made the cut.
UPDATE: My bad: For Best of the Rest of the Blogs (+8751), what could be better than Seven Deadly Sins? The Sinner's Internet address is slightly different than the name of his blog and I didn't recognize it when viewing the contestants. In fact, I'd been meaning to blogroll this one. Allow me to do so now by way of apology for my oversight.
Posted by Robert at December 10, 2005 05:19 PM | TrackBack