September 16, 2008
Deja Vu All Over Again?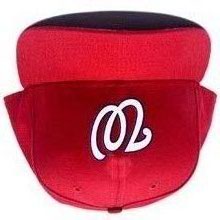 Fans will recollect that last September the Nats were primary contributors to the defenestration of the Mets from atop the NL East. The question is: Could it be happening again? It certainly looked like it last night as the Nats took the first of a four-game home stand off the Mets by the score of 7 to 2, and did so in mighty fine style. We shall see what the rest of the week holds in store.
By the way, I mention this not to taunt Gary, but almost in commiseration. While I am no fan of the Mets, I positively loathe the Phillies. We close against them later this month and to the extent that we throw a spanner into the Mets' pennant drive this week, I hope we make it up then.
Go Nats!

WEDNESDAY UPDATE: Uh, make that two out of the four games.
Go NATS!
Here We Go Again Yips! From Gary:
Posted by Robert at September 16, 2008 07:43 AM | TrackBack