September 04, 2008
Gratuitous Post-Palin Speech Observation
Back on August 30, I said:
My guess would be that the MSM should be reeeeeeal careful in serving up this kind of condescension in its effort to smother the emerging Palin mojo, because it might very well backfire. If she, in fact, can't handle going to the Show, that'll emerge soon enough without any press prompting. However, if she's got what it takes and the MSM is perceived as simply trying to stop her, well, it strikes me that neither the GOP base nor middle-of-the-road voters will put up with that kind of naked bias and instead will see it as all the more reason to rally round.
I'm hereby doubling-down on that prediction.
STRAW-IN-THE-WIND UPDATE: One of the reasons for my increasing confidence is that the Missus, who generally loathes bumper sticker politics, is slapping one of these on the back of her car: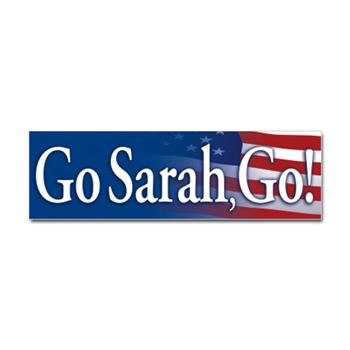 Anyone capable of getting the Missus enthusiastic about their campaign to this extent has got some serious mojo going on.

Posted by Robert at September 4, 2008 01:25 PM | TrackBack