September 03, 2008
Coming Over To The Dark Side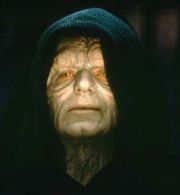 "Good.....Goood......"
I had told myself that I was going to avoid watching the conventions, knowing perfectly well that if and when I finally gave in to politics I would find myself obsessing all the way through Election Day.
Well, I did fine last week and on Monday. Last night, however, I caved. And now of course I'm going to watch the speeches tonight and tomorrow. And read up on all the coverage and spin. And try to prognosticate about What It All Means.
In the words of Anniken Skywalker, "Nooooooooooooo!!!!!!"
Oh, as for last evening's speakers? If the GOP wins the White House this fall, I sure hope Ol' Fred gets a high-visibility position. How about Press Secretary? "President don't take a dump without a plan, son."
Then there's Joe Lieberman. I really like the guy, but every time I see him speak, I half expect him to say, "Uh, now, Alf....Why did you put the lawnmower in the pool?"
Posted by Robert at September 3, 2008 07:45 AM | TrackBack