August 01, 2008
Gratuitous Nats Posting - "Goodbye, July, And Thanks For Nothing" Division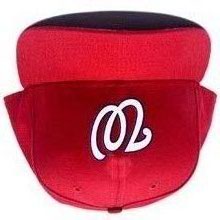 Well, the Nats lost another one to the Phillies last evening, 8-4. That means the Phillies sweep the series. As did the Dodgers before them. As did the Giants before them. Yes, the Nats are now on a 9 game losing streak and are 1-12 since the Break. They are also 6-19 for the entire month of July.
Jesus. Mary. Joseph.
The frustrating thing is that they are not awful. One sees just enough occasional flashes of style to sense what the team could really be like if they pulled themselves together. Most of the games are pretty close. Their pitching is generally pretty good and their defense is respectable. If I had to name a single statistic at the heart of the problem, I would have to say that it is runners left stranded. As was the case last evening, the Nats tend to get a healthy number of hits but don't seem able to convert them to runs.
Grrrrr, I say.
What to do? I dunno. On the one hand, the impatient part of me says that heads need to start rolling. On the other, I really like these guys. I like Zimmerman, Guzman, Belliard, Flores, Pena, Kearns, Milledge and the other guys. I like Manny Acta. The part of me that recognizes the team needs time to grow and mature says let them keep at it.
Oh, well.
Speaking of growing, however, as Rocket Ted noted the other day, the Nats are putting together a butt-kicking farm system, one that (hopefully) is going to start paying divvies soon enough. I believe I read or heard somewhere that combined, the farm clubs have one of the best, if not the best, records in minor league ball. And just look at the stats:
Columbus Clippers (AAA, INT-West): 60-51, 4 games behind.
Harrisburg Senators (AA, EAS- South): 60-51, 5.5 games behind.
Potomac Nationals (A, CAR-North): 23-16 and in 1st place, first half division winners.
Hagarstown Suns (A, SAL-Southern): 18-22, 10 games out.
Vermont Lake Monsters (A, NY-Penn League): 19-22, 2 games out.
Gulf Coast Nationals (R, GCL-East): 20-14, 2 games out.
Not too shabby. I would expect that if the Nats' season continues to tank, some of these boys may find themselves in the Show sooner than they had imagined.
Posted by Robert at August 1, 2008 08:33 AM | TrackBack