July 29, 2008
Gratuitous Nats Posting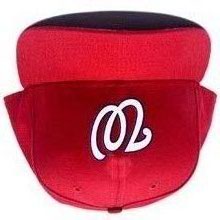 Okay, we're 0-6 for our last two series, having been swept by both the Giants and the Dodgers, and we're 2-7 since the Break, but the Nats start a six game home stand by taking on the rat-bastard Phillies tonight and I am still clinging to the hope that This Is Where We Turn It All Around. You can bet that the Llama-ettes and I will watch.
Several regular readers have scoffed at our continued adherence to the team as they flounder around in the cellar, but I think it an important life lesson for the gels about building character through loyalty in adversity. If I'm right, at this rate they'll be candidates for canonization some day.
So, again, I say it now and say it loud: GO NATS!
BTW, Robbo and family are headed out to the new park on Sunday afternoon for the first time to see the Nats take on the Reds. Can't wait!
Khaaaaaaaan!!!! Update: Nats drop it 2-1, in part because of a running mistake by Zimmerman (of all people!). Dang.
Oh, well. Nothing to do but look forward to tomorrow night.
Posted by Robert at July 29, 2008 03:45 PM | TrackBack