July 17, 2008
"The Father of English Hymnody"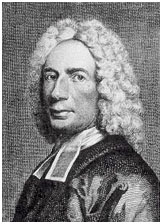 Happy Birthday, Isaac Watts. Born this day in 1674, Watts wrote something in the neighborhood of 600 hymns, many of which are still in the book. From my personal experience, they are uniformly sublime.
Because my addled mind works the way it does, I can never hear or read Watts' name without thinking of an incident of the Battle of Springfield, NJ in 1780, tattooed on my brain in my yoot: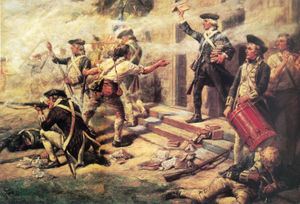 British and Hessian forces launched a two-pronged attack along Vauxhall Road and Galloping Hill Road. American forces were entrenched at the Rahway River crossings in anticipation of both the attacks and held their ground. Units of the attackers crossed the river elsewhere and attempted flanking maneuvers toward the town center of Springfield and the foot of the Short Hills. American forces in reserve repelled the attacks. American reserves held in hills ahead, and Knyphausen's forces retreated.

Fighting was short and fierce; at one time the British launched five attacks in the span of 40 minutes. When retreating, British forces set fire to the village, burning down all but four buildings, including the 1st Presbyterian Church of Springfield. American forces and militia continued to harass British forces during their retreat, possibly expediting the full withdrawal to Staten Island.

According to legend, Reverend James Caldwell [whose wife had been killed earlier during a British raid on what is now Union Township], chaplain of Jonathan Dayton's regiment, passed out pages from the Watts hymnal book to be used as wadding. The battle cry "Give 'em Watts, boys" was apparently coined from this incident.
The Church Militant, indeed.
Posted by Robert at July 17, 2008 09:30 AM | TrackBack