July 10, 2008
Gratuitous Nats Posting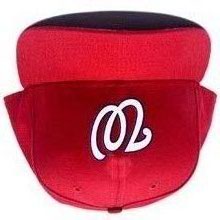 Our Maximum Leader put me on to this jaw-dropping article in the WaPo by Thomas Boswell:
Of all the stunning and unexpected sports statistics that we will ever see, few take the breath away more quickly than the assertion on Monday, in Nielsen Media Research data published by SportsBusiness Journal, that only 9,000 household TV sets, out of a metropolitan area of 5.5 million people, are tuned to the average Nationals game.

"Nine thousand?" said an incredulous Manny Acta, eyebrows arched. "Is that possible?"

That's the universal reaction. From the Nats up to Commissioner Bud Selig, that raw number, a minuscule 0.39 average rating, got reactions from skepticism to shock to concern.

Do the Nats really have so few devoted fans? Or is this a one-summer exodus because so many Nats players have been hurt? Did Peter Angelos, who pays the Nats about $25 million a year for their local TV rights, actually get the short end of what was originally considered a sweetheart deal? Is his MASN so inept that in Washington, and in Baltimore, too, its ability to penetrate the local TV market is at the bottom of baseball?
Read the rest. Among other things, the article notes that actual attendance at Nationals Park is quite respectable, especially given the string of crushing injuries and the resulting appalling record the team has been dealing with this year.
It's truly mind-boggling to think that there are only 8,999 other households with their tee vee sets tuned to MASN in the market. At Orgle Manor, we have watched quite a few ball games this year. Indeed, I cannot remember having ever watched so much baseball in my life. And as it happens, as the eldest Llama-ette and I watched the Nats break a six-game losing streak with an exciting 5-0 shutout of the D-Backs last evening, I started bloviating about the importance (and joy) of sticking with the team in these hard times and being patient for future success.
To the extent these Nielson figgahs aren't some kind of horrid statistical fluke, I hope everyone else connected with or supporting the franchise keeps that same spirit in mind.

Posted by Robert at July 10, 2008 09:47 AM | TrackBack