July 08, 2008
Things That Make You Go "Good God!"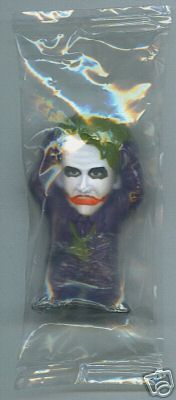 (Image found here.)
The Llama-ettes got one of these Heath Ledger/Joker figgahs in a box of cereal recently (Reece's Puffs, I believe).
Are the powers behind the upcoming Dark Knight movie really trying to portray it as a film suitable for kiddies? I'm sorry, but that's just sick.
(Incidentally, it may be dangerously close to Ned Flanders territory and is, perhaps, the result of too much Bible-thumper camp, but I couldn't help noticing the eight year old Llama-ette playing with the Joker toy and a Grady Sizemore teddy bear this evening: In her play, the latter was baptising the former. Yikes.)
Posted by Robert at July 8, 2008 10:30 PM | TrackBack