July 08, 2008
Gratuitous Domestic Posting - Outdoor Division
For whatever reason, Moo-Gnu is publishing uploads again. Therefore, I give you a little taste of Robbo's garden: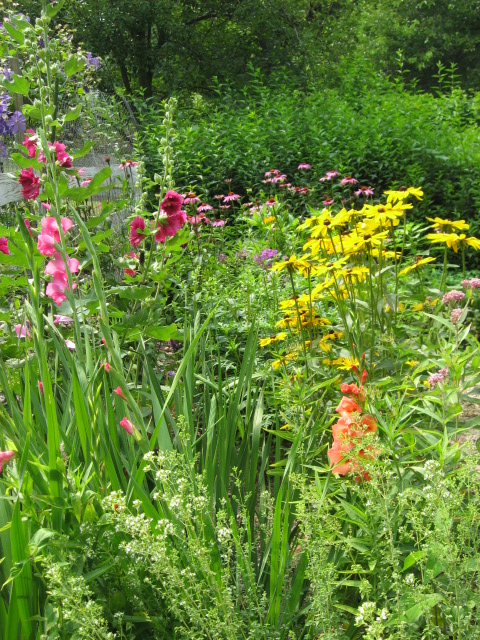 As you can see, I go for the informal, hodge-podged, English style. That's oregano in front, which no power on earth is ever going to be able to remove. If you look closely, you can just make out a few orange cosmos starting to come out between the brown-eyed susans and the coneflowers, plus some purple-ish phlox down low. As you can also see, I need to dead-head the clematis on the fence rayther badly and also to take the clippers to the forsythia in the back.
Granted, it isn't professional grade, but as the result of the few moments I manage to snatch here and there to take care of it (plus, it must be emphasized, the abundance of rain we've had this year around Dee Cee), I may say that I don't think it too terribly shabby. Lately, I've been strolling out in the evening just to hang over the gate and soak it all in. This makes me quite happy which, in the end, is what counts.
Posted by Robert at July 8, 2008 11:06 AM | TrackBack